About
CURA TERRA
The environment is personal. Environmental studies does not exist only in a theoretical or academic space; it is intertwined into the lives of every person on this planet. At Cura Terra, the personal forms the beating heart of our work. We are an undergraduate journal founded on values of justice and equity, putting people at the center of the world's most pressing environmental issues.
Cura Terra is designed to be both interdisciplinary and intersectional, because we believe that there is no single perspective that can adequately capture the totality of any environmental issue. To this end, we strive to demystify academia and to be accessible to academics and students alike; our content balances rigorous academic research with insightful journalistic and creative content.
Above all, Cura Terra exists to galvanize action. Through asking difficult questions of our readers, we balance the urgency of the present with hope for the future, underlining the vital role we each must play moving forward.
Visit us online at: Cura Terra (new window)
HISTORY
The Georgetown University Journal of the Environment (GUJOE) was published intermittently from 1997-2007. Its goal was to provide undergraduates with an opportunity to publish research on environmental issues, while also offering experience in the editing and publication of an academic journal. As a multi/inter-disciplinary venue, GUJOE accepted submissions on a wide range of topics and perspectives, from science and policy to literature and ethics.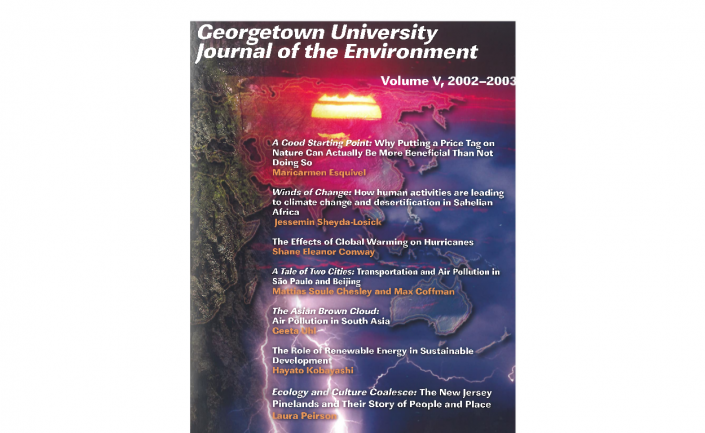 The Georgetown University Journal of the Environment (GUJOE) began in 1997 under the guidance of then-current director of the Georgetown University Center for the Environment, Dr. Timothy Beach. A significant undertaking, it understandably took some time for GUJOE to gain momentum, so the second edition was not published until 1999. From there, GUJOE accelerated into a full-fledged, functional journal, being published once per year from 1999 until 2004. Dr. Beach went on sabbatical in the spring of 2005, and his temporary absence resulted in a one-year gap in GUJOE's publication.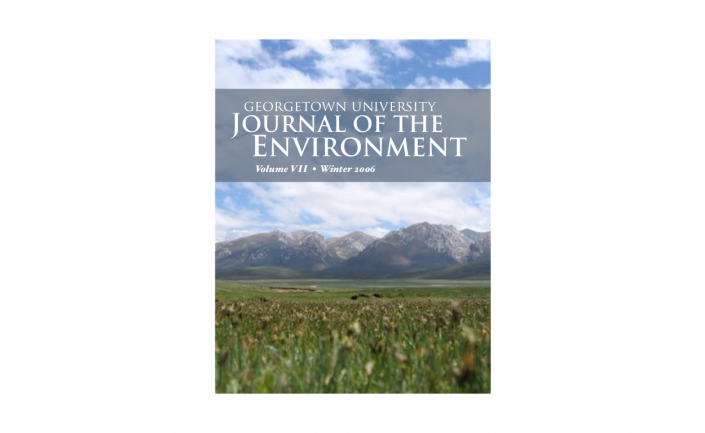 Even with a one-year pause in production, a great deal of publishable material was left over in the GUJOE archives. Dr. Edd Barrows assumed directorship of the Center for the Environment in the fall of 2005 and oversaw the continuation of GUJOE, as some of the former GUJOE editors decided to stay on the editorial board to help it thrive. Publication thus resumed in the fall of 2006, with a second edition following fast on its heels in the spring of 2007. This marked the first time that two editions of GUJOE were published in a single academic year. Unfortunately, much of the editorial board graduated after those two publications without being able to replenish its numbers. GUJOE stopped publication after that year.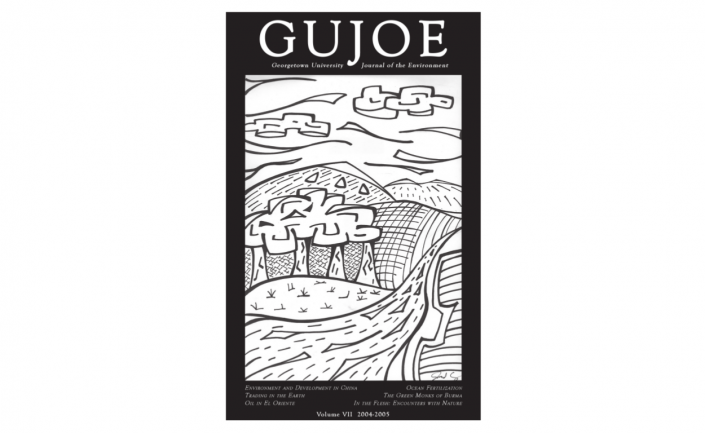 In the spring of 2012, Michelle Dailey (COL '14) found some old copies of GUJOE on the internet and wanted to revive the project. She began collaborating with Alexander Zajac (COL '15) to help bring GUJOE back into existence. With the advice and guidance of Dr. Beach, who had since returned to Georgetown University, preparations were made for a May 2014 edition of GUJOE; while this issue didn't come to fruition, it did serve to keep the central idea for the project alive.
Mission: The Georgetown University Journal of the Environment strives to cultivate and enhance a dialogue on campus and beyond about environmental issues, pressing concerns, and potential solutions. In order to effectively engage undergraduates (and recent graduates) in all areas of study, GUJOE seeks submissions on a wide range of environmental themes, from literature and philosophy to politics and science. The journal is inherently multi- and interdisciplinary in substance and methodologies alike, befitting the emerging field of environmental studies as a whole. GUJOE places a premium on undergraduate research and scholarship that demonstrates analytical depth, creative engagement, timely connections, and excellent writing.